| | | | | |
| --- | --- | --- | --- | --- |
| Item | Option 1 | Option 2 | Option 3 | Option 4 |
| Green Fee | $39.00 | $41.00 | $43.00 | $45.00 |
| Breakfast | $8.50 | none | none | none |
| Lunch | $10.50 | $12.00 | none | none |
| Corkage Fee | none | none | $5.00 | $5.00 |
| Gift Cards | $7.00 | $7.00 | $7.00 | none |
| Total Per Person | $65.00 | $60.00 | $55.00 | $50.00 |
| | | |
| --- | --- | --- |
| $5,000 | Early Shotgun | 8:00 am, 9:00 am, 10:00 am |
| $7,500 | Mid Day Shotgun | 11:00 am, 12:00 pm, 1:00 pm |
| $5,000 | Late Shotgun | 2:00 pm or later |
Minimum fees will not apply to small outings that book tee times.
Events of 120 or more players may require an extra rental fee.
All fees are before tax and tip.  15% tip will be added to all F&B items.
All alcohol must be purchased from the club and served by club staff.
For more information please contact
Byron Cook
678-335-6140
byron@scpgolf.com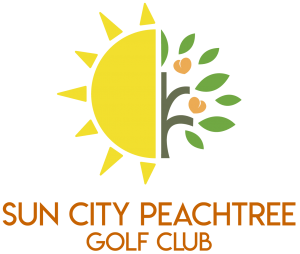 Location
250 Del Webb Boulevard
Griffin, GA 30223